Everyone deals with the loss of a loved one in a different way.
Androscoggin Home Healthcare and Hospice believes all people deserve access to services that can enhance quality of life. We are proud to offer bereavement services and programs that help people cope with grief due to the loss of a loved one. All bereavement services are offered free of charge.
Our Adult Programs
In-Person Group: Program will be offered weekly beginning September 22nd from 1:00pm to 2:30pm at Androscoggin's Lewiston Office at 15 Strawberry Avenue.
Virtual Group: Program will be offered weekly beginning September 21st from 1:00pm to 2:00pm
Join us at our upcoming Restorative Retelling Grief Support Group for adult family members and friends suffering from traumatic grief. This group is for those navigating their grief as a result of a loved one's sudden death due to homicide, overdose, suicide, motor vehicle accident, or medical event.
• 10 week group located at 15 Strawberry Avenue in Lewiston
• In-person group starts September 20th from 5:30pm to 7:30pm
Child  and  Teen  Programs
The "Art of Grieving" is a monthly program for children and teens who are grieving a loss. Children and/or teens (under the age of 18) who are registered for the program will receive all the supplies needed to complete the activity for the month.
A video showing how to complete the activity will be available at Androscoggin.org/bereavement beginning on the 24th of the month. Guidance for caregivers about how to support their grieving child or teen will be included with the supply kit. Art can help people who are mourning the loss of a loved one to open up to the opportunity to express their grief-related feelings and emotions.
The creation of art helps with processing sensory and emotional experiences in the bereaved. All activities are being offered free of charge to any children or teens in the community who are grieving.
To register, please complete the form below, or call Androscoggin's Bereavement Department at 207-795-9468. The deadline to register for each activity will be the 21st of the month.

Learn about next month's project Click Here to Register

Movies are a wonderful way to begin a discussion about difficult topics. While some might want to protect children from movies that are "too sad" or "too difficult", these can be a great way to give children the emotional vocabulary needed to express themselves and realize they are not alone in their experiences.
The "Projections of Grief" is a monthly program for children and teens (under the age of 18). Please join us for a recommended monthly movie that addresses grief and loss.
Arrive early for a selected Art of Grieving craft activity. After watching the film with family and/or friends, you will be joined by the Androscoggin Bereavement Team to discuss the movie.
Admission is free and popcorn will be provided!
For more information, please call (207) 795-9468

This one-day retreat is designed to bring together grieving children and teens ages 6 to 17, as well as the key support people in their lives, who have experienced the loss of a loved one or are living with a loved one with a terminal illness.
The goal of the daylong camp is to offer support to all who have experienced a loss, to educate those attending about the grieving process, and to help families feel comfortable having sometimes difficult conversations about death and loss. The retreat is led by specially trained counselors and volunteers within a supportive environment in order to help meet the unique needs of grieving children, teens, and adults.
The camp is open to hospice families, as well as families in the community who have experienced the loss of a loved one or are anticipating a loss. Children must be accompanied by at least one adult.
Program will be offered again in Spring 2023. Call Amy Dulac, Bereavement Coordinator at 207-795-9468  if you have any questions.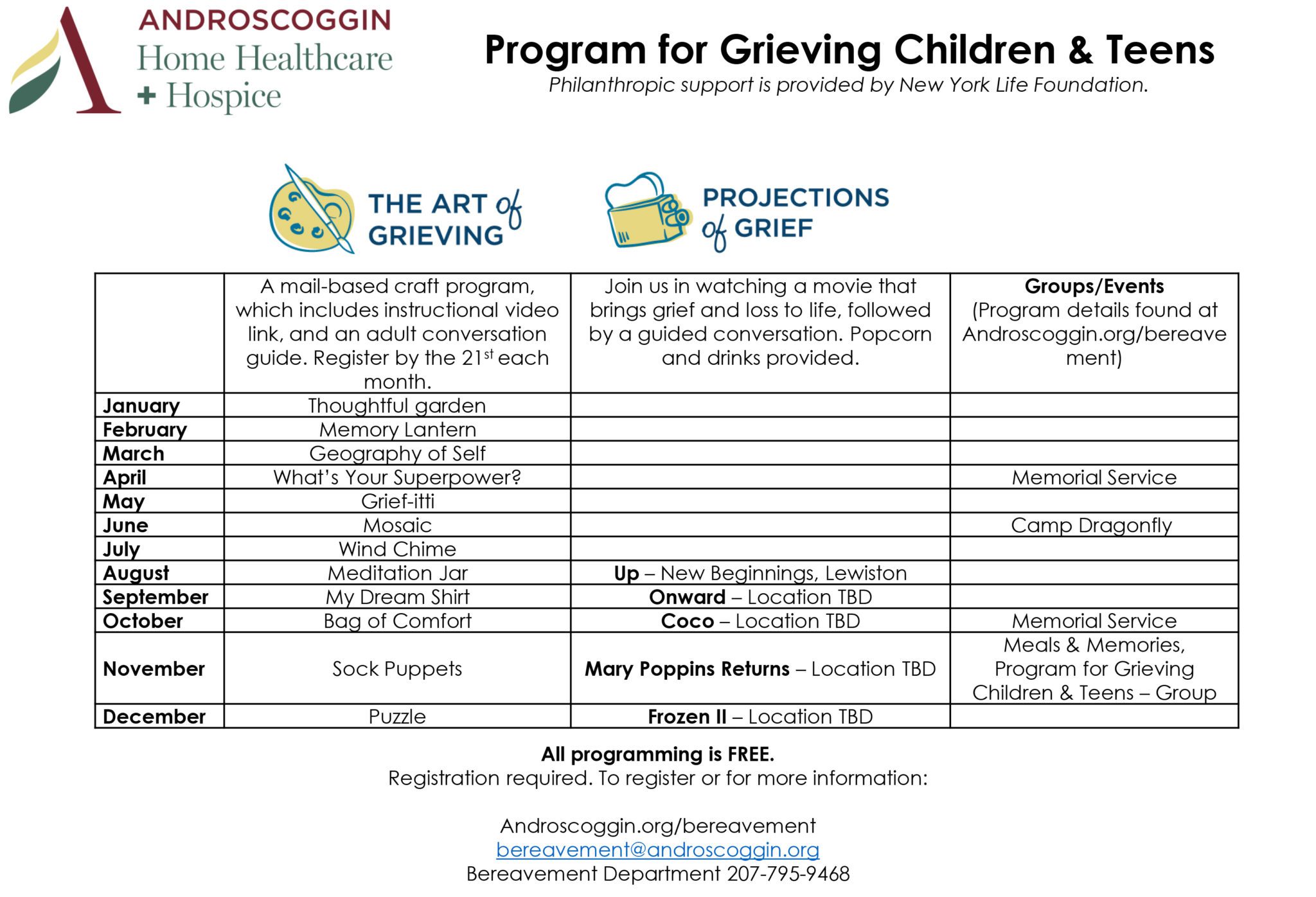 ---
The loss of her husband of nearly 51 years left Yvette Boivin feeling overwhelmed. Learning of Androscoggin Home Healthcare and Hospice's Pathways Through Grief support group enabled her to change her perspective on life and gave her a new focus. "During the eight-week session, I learned there are so many aspects to grieving, so many questions you need answered. I learned that it's okay to be sad and more importantly, it's okay to be happy. My husband would want that." –  Yvette Boivin, support group participant 
---