By Keisha Smith, MA, CWCMS
What does it mean to be a leader in wound care? It's about being a credible resource for care decisions based on the evidence, which wound care certification achieves.
It's about focusing on what you can do, big or small, to make things better for your patients, team and organization.
Every day, thousands of our Wound Care Education Institute (WCEI) alumni lead in this way with wound care certification.
If you participate in our alumni-only Facebook Group called "Wound Care Rocks," you might recognize Trisha Dubois, RN, WCC, OMS, as a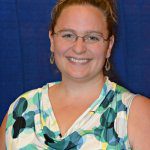 clinician who demonstrates those leadership qualities. She's eager to learn from other certified clinicians in our group.
"If we don't have that innate ability to push ourselves in seeking new updated information, we stagnate," she said.
In turn, Dubois never hesitates to share the knowledge she gained from our wound care certification courses, continuing education and her experiences as a wound resource nurse at Androscoggin Home Healthcare + Hospice in Maine.
Calling leads to wound care certification
Dubois knew in elementary school that she wanted a career in healthcare, and became a certified nursing assistant while still in high school.
She obtained her associate degree in nursing while working at a local hospital, then felt called to serve her immediate community in the home care setting as a case manager and preceptor for Androscoggin. There, Dubois showed a knack for managing fistulas, ostomies and non-healing surgical wounds.
Her path to wound care nursing wasn't obstacle-free, however. Early in her career, a nurse practitioner encouraged Dubois to continue her education and specialize in wound care.
Dubois took those words to heart, but as a working parent she couldn't envision going back to school until her two young children were much older.
Nonetheless, the agency noticed her talent for wound care and began steering her toward challenging wound cases, even switching her assignments with teammates. Buoyed by her experiences but aware that she lacked the required credentials, she applied for a wound specialist vacancy at Androscoggin.
Her management confirmed that without wound care certification, she could not fill the post. "I was totally bummed out," Dubois said.
Her strong interest in the specialty made an impression, however. A year later in 2015, the agency offered to send her to our four-day Skin and Wound Management course and NAWCO Wound Care Certified (WCC) examin New Hampshire.
Without hesitation, Dubois agreed to attend, launching her official career in wound care.
"It was an incredible course," she said. "I felt like I was finally with people who understood the excitement I feel about seeing wounds heal."
Dubois also gives high marks to her instructor, Bill Richlen, PT, WCC, DWC. "Bill was inspirational," she said. "I was amazed by him and the way he taught the class and captured the attention of everyone."
The joy of ostomy management
Another transformative experience awaited Dubois in 2016, when she enrolled in our Ostomy Management course.
On a flight to the course site, she read a short book that her husband had given her called, "The Energy Bus: 10 Rules to Fuel Your Life, Work and Team with Positive Energy."
In the book, a bus driver named Joy teaches the main character and his fellow passengers how to create and maintain positive energy. In the end, the main character's new outlook spreads to his team and transforms his workplace.
The fable struck a chord with Dubois, who liked the message that an uplifting vision could be just as contagious as pessimism or burnout. With the lessons of the book fresh in her mind, Dubois arrived at the class.
"I didn't know who my instructor would be. But to my surprise, after reading the book, I enter the classroom, and Joy Hooper greets me. Something clicked in my head, and I thought, 'I'm in the right place. This is what I'm supposed to be doing, and I'm on the right path.' Joy's class was a life-changer for me because my true love is ostomy care. If I could take care of patients with ostomies all day, every day, I would do it. And I told Joy that she truly embodies her name."
Wound care certification leads to new opportunities
With two certifications under her belt, Dubois continues to seek up-to-date knowledge to bring back to staff. She attended her first Wild on Wounds (WOW) conference in 2017, returned in 2018 as a poster presenter, and will participate in WOW 2019 as a first-time speaker in a session about palliative wound care.
"It's called 'Dressing with Dignity,' and it's regarding cost-effective, creative ways that we have found in home care to help our patients," she said.
Her responsibilities at Androscoggin include providing consultations for patients across nine counties, educating new staff, conducting competency evaluations to existing staff and writing evidence-based policies.
She strives to maintain relationships with local wound care centers and referral sources so they know her on a first-name basis.
"I want them to know that when they're referring a patient to us, they know who is going to be seeing them and who they can reach out to directly," she said.
As part of her role, Dubois also maintains the formulary. She documented her quest for improvement in the 2018 WOW poster.
"Previous to doing this project," she said, "we had a lot of different products on the formulary, which made it difficult for us to know exactly how each one of them worked and for the staff to remember all of them."
Dubois worked with a dressing manufacturer and ship-to-home distributor to streamline Androscoggin's formulary with versatile, easy-to-use products. As a result, she said, "We've been able to increase the competency and confidence of our staff and improve patient outcomes because people know how to use the products."
The power of community
Dubois looks forward to meeting fellow healers at our next WOW conference in September and recharging her batteries.
"I think of the conference as a way to feed my mind," she said. "The people who are presenting are excited and love being there. It's infectious. You can't help but be excited to be there also."
Does she like being called a wound care leader? Like so many of our WCEI alumni, she would rather talk about the successes of her entire staff.
She's also quick to give credit to the people who supported her development, including the medical-surgical staff who pulled her into interesting cases as a student nurse, the supervisors who sponsored her WCEI courses, and her family, who encourages her and pushes her to achieve her career goals. "I really don't like to toot my own horn," she admitted.
But labels aside, it's the passion, the dedication, and the vision that confers leadership. Dubois is driving her own "Energy Bus," and she's not stopping anytime soon.
____________________________________________
Keisha Smith, MA, CWCMS, is a freelance digital marketing consultant who works with clients in healthcare, law and behavioral health. Her specialties include content creation, social media and brand clarity. As an eight-time Wild On Wounds conference staff member and an alumna of WCEI's training program for wound care marketing professionals, she loves the exceptional passion of clinicians who treat wounds. She frequently finds herself advising friends and family to keep their minor wounds warm and moist.