It's never too early to make plans for your participation in Androscoggin Home Healthcare + Hospice's annual Hospice House 5K and Remembrance Walks.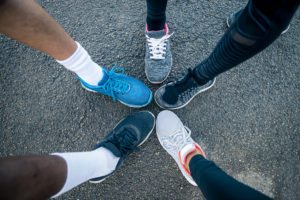 The first event takes place in Farmington Sunday, May 6, and the Auburn event is scheduled for Sunday, May 20. Both events begin with registration at 7:30 and race at 9 a.m. In Farmington, the racers and walkers will gather at the Maine District Court Parking lot, while in Auburn, the certified race starts and ends at Central Maine Community College. There will be a kids' fun run and a memory garden in Auburn to commemorate the 10th anniversary of the event.
"One of the fun and unique elements of the 5Ks is the formation of teams who raise funds in memory of someone they have lost," said Androscoggin President and CEO Ken Albert. "Many of the teams design their own T-shirts and run or walk together, and it is great to see so many families that choose to remember a loved one and support the Hospice House."
In 2018, there are more incentives tied to the amount of money raised, including water bottles, fleece blankets, L.L. Bean totes, and softshell jackets. Any individual or team raising more than $1,000 is entitled to a brick paver at the Hospice House to memorialize a loved one.
The funds raised assists hospice patients who do not have adequate health insurance at the Hospice House. This allows families to focus on what matters most during these difficult times and removes a heavy burden as a loved one nears the end of life. Androscoggin provided more than $1.3 million in free care in 2017 and has never turned away a patient due to an inability to pay.
Registration for adults costs $25 prior to race day and $30 on race day. Registration for kids is free. For more information about the Hospice House 5Ks and Remembrance Walks or to register Here
These events are sponsored by Spectrum Healthcare Partners; Harvard Pilgrim Health Care; Maple Way Dental Care; Baxter Brewing Company; Bedard Pharmacy & Medical Supplies; Dignity Memorial/The Fortin Group; T & M Commercial Funding; Northeast Bank, Cullenberg Law Office and Callahan Construction.
---
CONTACT:
John Martins, Communications Manager
Androscoggin Home Healthcare and Hospice
15 Strawberry Avenue
Lewiston, ME 04240