Gifts of Remembrance are made in honor of loved ones who have passed.
Gifts can be designated to certain services within our organization, for example: Hospice House or where needed the most. These gifts can be made in conjunction with funeral arrangements or in recognition of the outstanding service a loved one received from Androscoggin.
Arrange Gifts of Remembrance
If planning a funeral
Notify the funeral director that you want Androscoggin Home Healthcare and Hospice to be designated to receive Gifts of Remembrance. The funeral home will make sure your gift designation is included in the newspaper notice and will have Gifts of Remembrance envelopes available at the service. All Gifts of Remembrance envelopes should be returned to our main office at the following address:
Androscoggin Home Healthcare + Hospice
ATTN: Development Office
15 Strawberry Avenue
Lewiston, Maine 04240
If you are not holding a service
We would be happy to provide you with Gifts of Remembrance envelopes for family and friends. Contact the Development Office at 207.795.9404 or email us.
Memorial Brick at the Hospice House
Remember a loved one while supporting end-of-life care at the Androscoggin hospice house.
A commemorative brick terrace borders the gardens of the Androscoggin Hospice House and is dedicated as a positive and transformative step towards healing. Each brick is a quiet reminder of someone who has left an imprint on their lives.
By ordering an engraved brick you create a lasting memory that honors a loved one, and directly supports essential patient and family services.
Bricks may be ordered any time throughout the year, but they are engraved and added to the garden only once a year. Every spring Androscoggin hosts an annual dedication ceremony for newly laid bricks.
Directions for the customization of your Hospice House Memorial Brick will be sent to your email address after completing the order form below.
Remembrance Ornament
Honor a Special Loved-One & Help Those in Need
Check back in November 2023 for next years ornament!

Whether it's the Butterfly Release, Remembrance Ceremonies or the holiday Remembrance Ornament sale, we recognize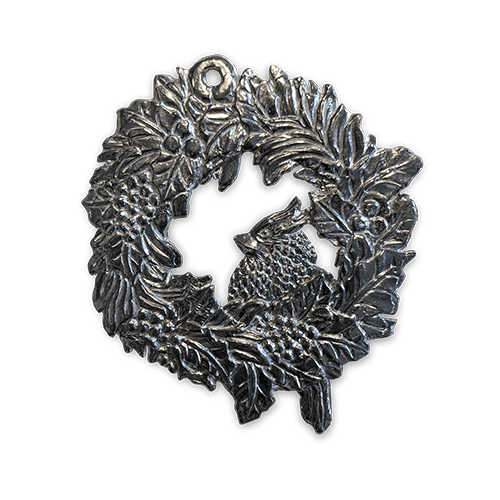 that honoring and remembering a loved one is important in the healing process.
This year's Remembrance Ornament features a beautiful cardinal made of handcrafted pewter. We'll help you honor your loved one by adding his or her name to the customized tag and ribbon that will hang from the ornament.
This is a great way to remember someone during the holidays each and every year. All proceeds help us in our mission to serve all patients who cannot afford hospice and home care while also supporting services for families who are grieving.
$25 ea.