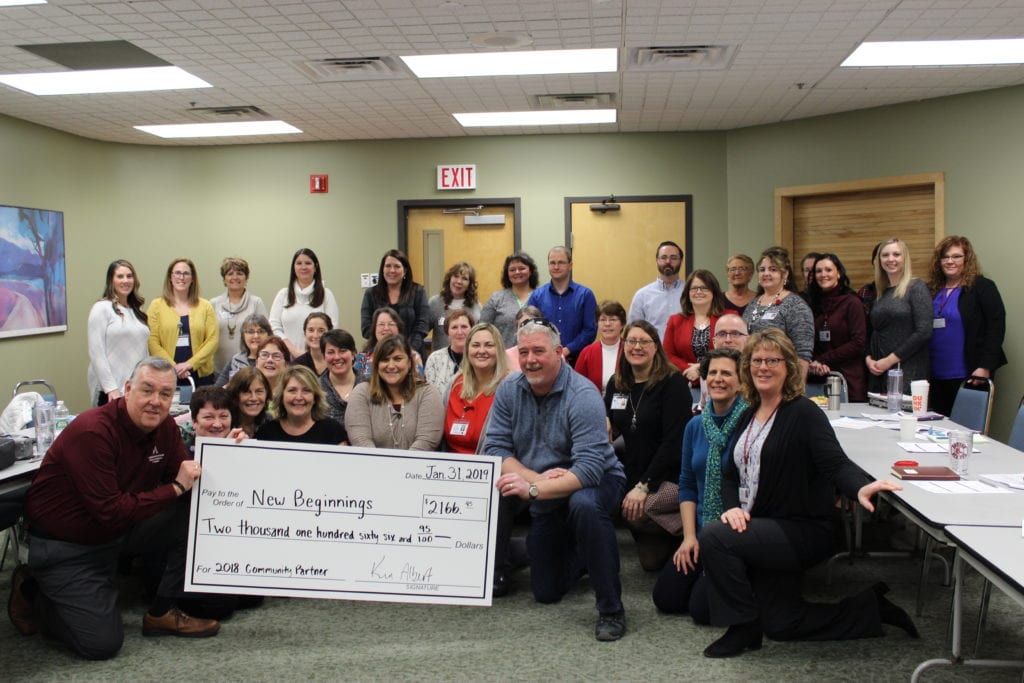 LEWISTON – – Androscoggin Home Healthcare and Hospice present New Beginnings, their 2018 Community Partner, with a check for $2,166. New Beginnings, based out of Lewiston, supports runaway and homeless youth and their families. Androscoggin Home Healthcare and Hospice, also a non-profit organization, selects another local non-profit to be the beneficiary of their Community Partnership.
Ken Albert, President and CEO of Androscoggin said "We understand the importance of giving and the support of our communities, as we are often the recipient of such generosity. That's why we feel it so important that we return those kindnesses and lend a hand to our community partners." A committee of Androscoggin staff help to nominate and select a new partner each year, and then brainstorm creative ways to mobilize Androscoggin's staff and volunteers to best meet their partners' needs.
The Androscoggin staff held "Jeans Days", in which employees make a donation to wear denim. In addition to raising over $2,000 for New Beginnings, the organization also rallied together to collect donations of deodorant and toiletries in the spring, held a summer clothing drive, created New Apartment Kits with items to help youth build a comfortable home in the fall, and contributed to New Beginnings' Holiday Drive by donating necessary health and hygiene products as well as some treats such as ear buds and candy.
"These youth are often faced with decisions between paying the electric bill or putting food on the table. What Androscoggin has done is help to alleviate some of that burden and we can't thank them enough." Said Chris Bicknell, New Beginnings Executive Director. Albert was joined by the entire Androscoggin leadership team to present the final donation to Bicknell and his team.