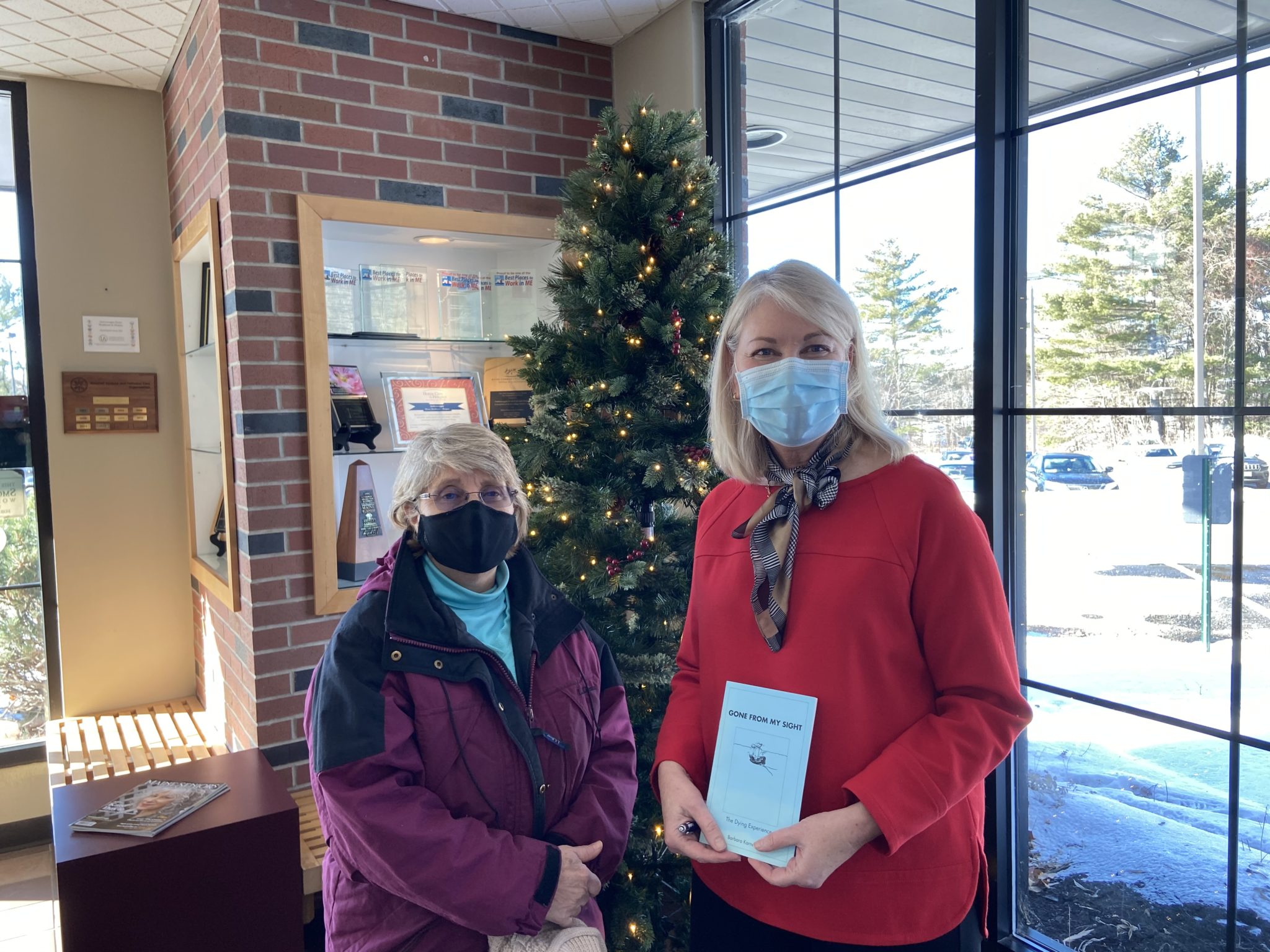 "Let each day be a gift of self so you may help make the world better," wrote Lorraine Casavant. Lorraine, a resident of Greene, Maine took care of many elderly relatives and faithfully served the Catholic Church bringing communion to homebound parishioners until she was 87 years old. Lorraine passed on October 22, 2019, at age 91. Her stepdaughter, Diane Mathieu shared part of Lorraine's many personal journals with Development Director, Kristin Melville. The journals reflected Lorraine's faith and the belief in helping others.
Diane and her family cared for Lorraine at end of her life with the support of Androscoggin's Hospice staff. Diane said, "I was so incredibly grateful to Androscoggin for their wonderful care they provided Lorraine and me though the last part of her worldly journey. Their care and support gave me the confidence to take care of Lorraine for five months in her home."
Diane was given a copy of a Little Blue Book, titled: Gone from My Sight – The Dying Experience by Barbara Karnes, RN. The thirteen-page booklet with a blue cover outlines the physical stages of the dying process. Published in 1986, it is written for the caregiver as a comprehensive end-of-life resource that offers knowledge to ease fear and misinformation about dying and death. It is often referred to as the Little Blue Book by families and caregivers.
Diane found the booklet enormously helpful when Lorraine was transitioning. She wanted every hospice family caring for a loved one at home to have a copy. Through a special gift in memory of Lorraine, the Little Blue Book is available to all home hospice and hospice house families. Diane said, "It's really a tribute to Lorraine and all the families caring for hospice patients. Lorraine would be pleased to know this gift will comfort others."
Lorraine wrote in December 2003, "We are surrounded with the evidence of God's abundance… we have so many opportunities to reach out to those less fortunate, to bring joy and hope into their lives – to make a difference just by being there."
Thank you, Diane, for honoring Lorraine's memory and her life's work with a gift that will help guide many families through their own unique hospice journey.