Join us on Saturday, November 3rd for our annual Soup, Chili + Chowder Challenge – a Dream Team Fundraiser.
NEW LOCATION – The Atrium at the Bates Mill.  GPS, use: 36 Cedar Street, Lewiston. Follow the signs (and smells!) to find us!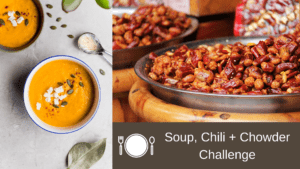 Sample and vote for your favorite soup, chili or chowder expertly prepared by cooks and chefs from all across Androscoggin Home Healthcare + Hospice staff and volunteers.
Tickets are $10 for adults in advance, or $12 at the door, and $5 for kids in advance, or $6 at the door. Children 4 and under are free.
Tickets can be purchased at Androscoggin Home Healthcare + Hospice at 15 Strawberry Avenue in Lewiston, at the Hospice House on Stetson Road in Auburn, or at Baxter Brewing 130 Mill Street in Lewiston.
The Dream Team – AHHH Hospice House 5K Team is a team of Androscoggin staff, volunteers, family and friends who raise money throughout the year for Androscoggin's Hospice House 5K & Remembrance Walk. All proceeds support the Hospice House.