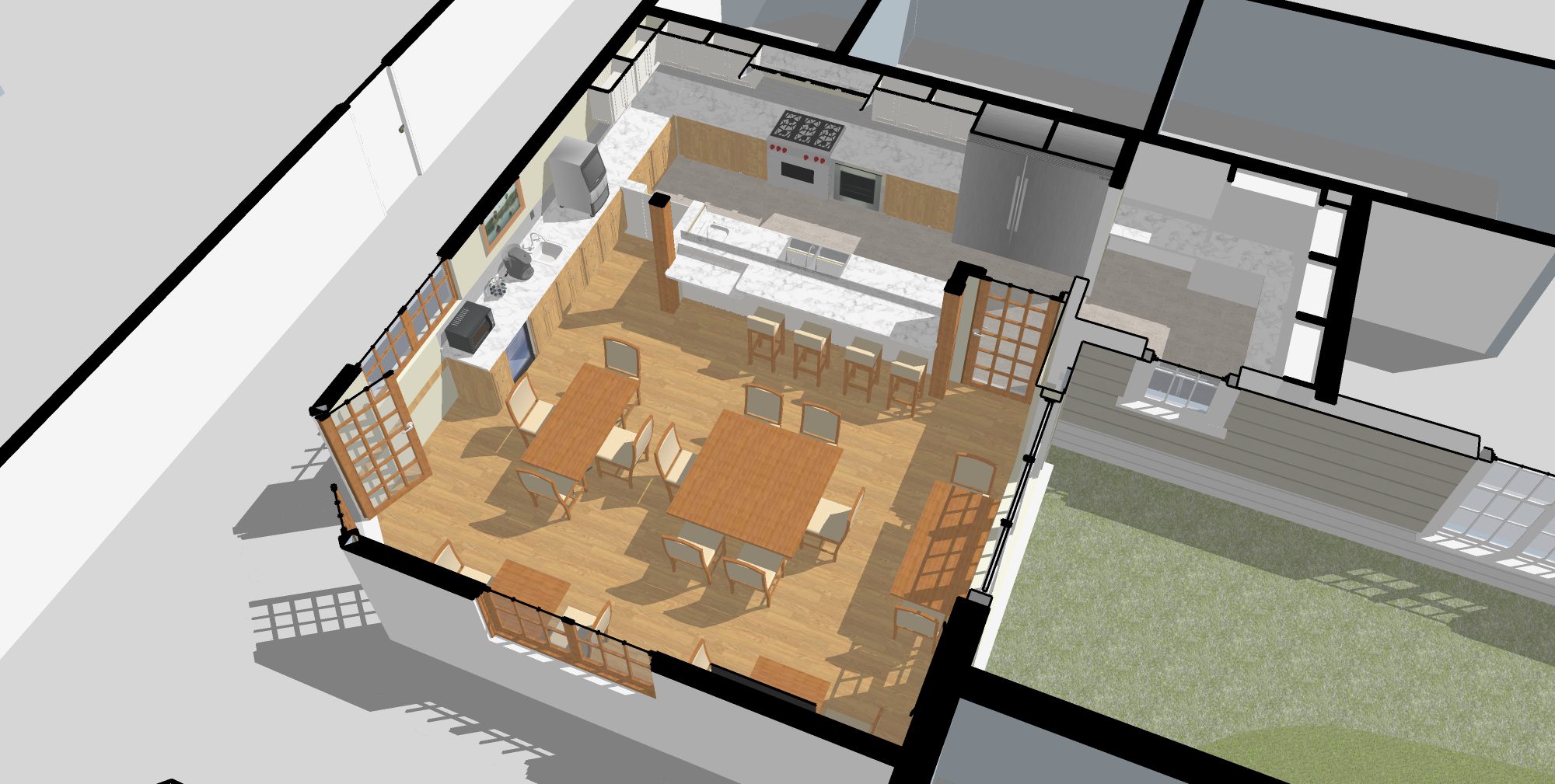 ---
After 16 years of love, the Androscoggin Hospice House kitchen and dining area will receive a much needed restoration named in honor of Karen Flynn, RN, the Hospice House's first clinical manager and founding force. A special fundraising effort, The Community Campaign to Renovate the Kitchen, led by Campaign Chairs, Paul Andersen, Mary and David MacMahon began earlier this year with initial subscriptions from Androscoggin's Board of Directors, Foundation, organizations, and generous individuals throughout the greater Lewiston/Auburn region. We have currently raised 96% of our $309,000 goal!
Since opening its doors in 2005, the Androscoggin Hospice House has welcomed more than 7,000 patients and their families. The renovation of the Hospice House kitchen and dining facilities is essential to meeting the future needs of our patients and families.
A Much Improved Facility:
Patient Accessibility
The newly reconfigured entrance to the Hospice House dining room will double its seating capacity and allow easy access for wheelchairs and other specialized medical equipment permitting all patients to participate and enjoy their newly renovated surroundings. The fully accessible kitchen counters and tables will accommodate patients and families as they engage with food preparers, volunteers, and staff. Patients and visitors ultimately will be immersed in this familiar family experience.
Environmental Safety
Creating a fully functional commercial kitchen facility and accessible dining area that is both pleasing and environmentally safe is the goal. As a residential care facility meeting strict new guidelines for airflow and environmental safety is paramount while having a 360-degree focus on our patients' and families' safety and security.
Dedicated Family Area
A new self-serve family area with complimentary beverages and baked goods will be a welcomed addition the remodeled dining facility. A large commercial refrigerator will store cold drinks, in addition to easy accessible ice and water machines for loved ones. One of the important acts of caring for a loved can be as simple as offering a cup of ice. Having it readily available will be most welcomed by the many families served.
Complementary Therapy Program
Within the newly remodeled dining facility, a Complementary Therapy Program has been developed to bring music to patients and families. It is envisioned the renovated dining area will quickly become a favorite gathering place for music as well.
The kitchen is the heart of every home – It is a place where some of our fondest memories of family and friends are made – Gathered around the kitchen table is often the very place we have supported one another to collect the strength we need to face life's challenging decisions – The Androscoggin Hospice House is not so different from our very own homes – families gather to comfort one another – find solace and resolution.
Completing an Essential Campaign
As the Campaign effort now turns to its public phase, we invite you on behalf of our patients and families to consider a gift to the Community Capital Campaign to Renovate the Androscoggin Hospice House Kitchen. Gifts of cash, check, appreciated securities, stock, life insurance, and qualified charitable contributions from retirement accounts are welcomed. Pledges to be paid within two years will be gratefully accepted. Gifts of $1,000 and above will receive name recognition within the kitchen while the generosity of all will be recognized throughout the organization's publications and website.