Join The Dream Team for their January edition of Craft on Tap.  They'll be making a painted canvas Button Tree of Life. This is a family-friendly event with an earlier start time, so be sure to reserve your spot!
Thursday, January 3
CRAFT ON TAP (SNOW DATE 1/10)
BUTTON TREE OF LIFE
Make a painted canvas "Tree of Life"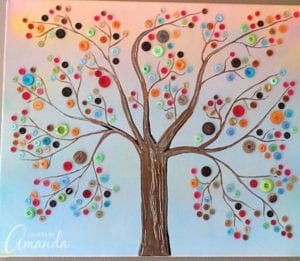 $30 fee includes supplies, tutorial & FREE BEER!
At The PUB @ Baxter Brewing, 120 Mill Street, Lewiston
5:00-7:30 p.m.
(Note: EARLY START)
Family-friendly project – so bring the kiddos!
Space is limited – please register by December 28th!
Send Registration to: Hospice House, 236 Stetson Road, Auburn, ME 04210 c/o Kate Sicotte or contact us at: kate.sicotte@androsoggin.org
Craft on Tap Series – First Thursday of each month. (Snow date is the second Thursday of the month.)
February 7th – Vinyl Design Wine Glasses Snow date 2/14
March 7th – Silverware Wind Chimes Snow date 3/14
April 4th – Decorated Spring Cookies
May 2nd – Everlasting Flower Bouquet
June 6th – Rustic Bottle OpenersFREE Baxter Brewing craft beer!
ANDROSCOGGIN HOME HEALTHCARE + HOSPICE'S "DREAM TEAM"
The "Dream Team" is a group of Hospice House supporters, made up of Androscoggin staff, volunteers, family, and friends. Together, we work to raise funds for Androscoggin's annual Hospice House 5K & Remembrance Walk.