---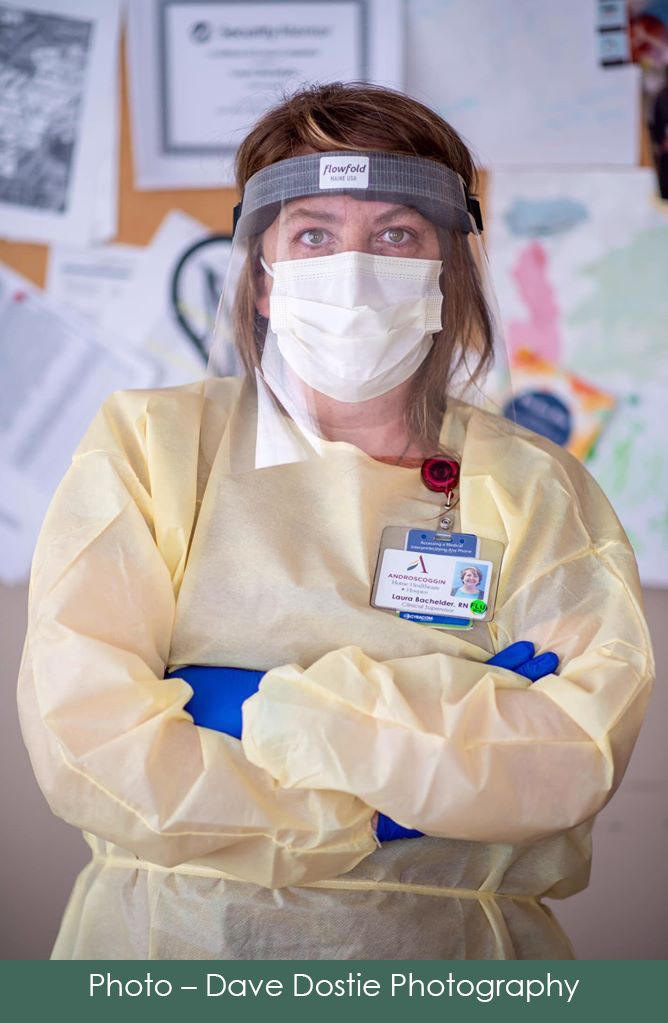 Since 1966, Androscoggin's focus has always been on the health and safety of our patients, staff, and community. Challenges like the COVID-19 pandemic reinforce our commitment to our mission. We are an organization about living, dedicated to enhancing quality of life by providing innovative and compassionate medical care for all.
As COVID-19 continues to spread and impact new geographic areas, Androscoggin is still working diligently, managing and planning communications and enacting emergency preparedness operations. By proactively identifying and addressing the myriad issues brought forth by a pandemic, we have been able to keep our focus right where it needs to be, on the people who trust Androscoggin to keep them safe.
To help those navigating the difficulties of life during this uncertain time, Androscoggin created a resource to help: Coping Through Hard Times
Visitation hours during COVID are limited to 8am to 8pm daily.
Visitation at Hospice House is restricted to immediate family members ONLY. Visitation is restricted to two visitors per day. The two visitors are required to remain in the patient's room. Once the visitors leave the building, they cannot return until the next day. Two different people can visit each day, but only two visitors are allowed per day.
Each patient/family MUST designate ONE pointe person at the time of admission who will provide a list of allowed visitors, and coordinate scheduled daily visits for the patient.
Special End of Life Visitation during the COVID-19 pandemic:
When the doctors, nurse practitioners and nurses determine that a patient is very near end of life (family will be notified), the patient's immediate family is allowed to visit, two at a time. Family can swap out with other family members as needed. These visits are allowed 24 hours per day.
Patient's on Precautions related to COVID:
When a patient is on Special Contact Airborne Precautions related to COVID, visitation is not allowed. In the event that the patient on isolation is actively dying, the medical team will determine if it is appropriate for an EMERGENCY end of life visit. In this situation, two designated family members will be shown by staff how to DON and use PPE and PAPR. Staff will assist the family members to DON the PPE and PAPR and they will be allowed to visit the patient for 10 minutes or less. Staff, wearing appropriate PPE, will assist the family members to appropriately and safely DOFF the PAPR and PPE.
ALL visitors:
Visitors are screened using CDC protocol prior to entry in to the Hospice House, including temperature check, review of symptoms and confirmation that no fever-reducing medications such as acetaminophen (Tylenol), aspirin, ibuprofen (Advil, Motrin), or naproxen (Aleve) have been taken in the last six hours as these may mask a fever. 1/11/2021
All visitors are required to wear a surgical mask at all times while in the Hospice House (no cloth masks are allowed).
Visitors are required to go directly to the patient's room, maintain appropriate social distancing from others and keep masks on at all times and use hand sanitizer when entering and when leaving the patients room.
All public areas and hallways are closed. Visitors must remain in the patient's room.
If visitors need to use the restroom, they are to use the facilities in the patient's room.
The Patient & Family Liaison, Hospice House Social Worker and Hospice House leadership can also assist to coordinate the use of Virtual technology to communicate with the patient. You are encouraged to call and schedule a virtual visit.
All visitors must comply with the rules regarding visitation at the Hospice House to ensure the safety of patients, other visitors, staff and volunteers. Failure to comply could result in removal from the property.
COVID-19 is a novel (new) coronavirus which was first detected in December 2019 in Wuhan City, Hubei Province, China and has now been detected in other countries, including the United States.
For some, the respiratory virus causes mild symptoms like the common cold or influenza (flu), for others it can cause severe pneumonia that requires medical care or hospitalization.
The virus is named "SARS-CoV-2" and the disease it causes is named "coronavirus disease 2019" (abbreviated "COVID-19").
Symptoms of COVID-19
 may include:
Fever or chills
Cough
Shortness of breath or difficulty breathing
Fatigue
Muscle or body aches
Headache
New loss of taste or smell
Sore throat
Congestion or runny nose
Nausea or vomiting
Diarrhea
Symptoms may appear 2-14 days after exposure.
Most patients experience mild symptoms and can recuperate at home, but others, particularly those with underlying medical conditions, may experience more severe respiratory illness.
 The
virus is thought to spread
mainly from person-to-person.
Between people who are in close contact with one another (within about 6 feet).
Through respiratory droplets produced when an infected person coughs, sneezes, or talks.
These droplets can land in the mouths or noses of people who are nearby or possibly be inhaled into the lungs.
COVID-19 may be spread by people who are not showing symptoms.
It may be possible that a person can get COVID-19 by touching a surface or object that has the virus on it and then touching their own mouth, nose, or possibly their eyes. This is not thought to be the main way the virus spreads, but we are still learning more about how this virus spreads.
There are simple steps you can take 
to reduce the possible spread
 of COVID-19 and other illnesses such as influenza and the common cold:
Wash your hands often with soap and water for at least 20 seconds or use alcohol-based hand sanitizer
Cover your mouth and nose with a cloth face cover when around others
Avoid close contact with people who are sick
Avoid touching your eyes, nose, and mouth with unwashed hands
Stay home while you're sick and avoid close contact with others
Call ahead to a health care professional if you develop a fever and symptoms of respiratory illness, such as cough or difficulty breathing. Tell your health care professional about 
any
 recent travel or contact 
with other COVID-19 cases
. Your healthcare professional will work with Maine CDC to determine if you need to be tested for COVID-19. More information is available on the U.S. CDC's 
What You Should Know page
.