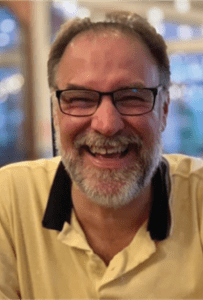 LEWISTON – – Androscoggin welcomes Ron Hood as their new Manager of Volunteer Resources, an exciting addition to their dedicated volunteer team.
Hood most recently served as System Manager of Volunteer Services at Central Maine Healthcare where he was responsible for overseeing all volunteer programs operated at Central Maine Medical Center, Bridgton Hospital, Rumford Hospital and all affiliated CMH facilities.
"Androscoggin Home Healthcare and Hospice's volunteer program is widely respected as one of the most extensive health care volunteer programs in Maine," said Kenneth Albert, R.N., Esq., President and CEO. "Ron's deep appreciation for the art and science of volunteerism – what motivates volunteers –  and volunteer programming will help our Volunteer Resources Department continue to grow and positively impact our patients and their families, as well as the quality of experience for our employees who have very meaningful relationships with our volunteers."
Hood earned his Bachelor of Arts in Communications from the University of Southern Maine. From there, Hood worked as an investigative paralegal and case manager at Hardy Wolf and Downing before joining Big Brothers Big Sisters as a mentor coordinator and program director. Prior to leading the Volunteer Services department at Central Maine Healthcare, Hood held the position of Director of Owner Services at Owner Media Group, Inc.
"I am looking forward to learning more about everything that makes Androscoggin special, and showcasing our wonderful family of volunteers," said Hood. "It is my hope that every volunteer understands that their time, skills, and heart is appreciated by the staff, patients, and families that we serve. Together, we can bridge gaps and provide quality services to benefit our neighbors."
– # # # –
Androscoggin Home Healthcare and Hospice is the largest, non-profit independent home health and hospice organization in the state. We focus on health – not illness – by making each individual's quality of life the best it can be. To learn more about Androscoggin, including employment and volunteer opportunities, please visit www.androcoggin.org or call the Development + Community Relations Office at 777.7740 ext. 1311.